Emergency Services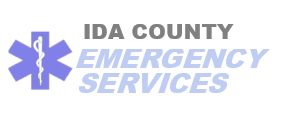 Ida County Emergency Medical Services Board Information
CLICK HERE for the ICEMS Board Member List
ICEMS BOARD AGENDAS:
ICEMS BOARD MINUTES:
ICEMS BOARD RESOLUTIONS:
CLICK HERE for information on the Ida County Essential Services public vote on November 7, 2023
CLICK HERE for a preview of the flyer the Ida County EMS Association is sending to all county residents September, 2023.
About Ida County Emergency Services
Ida County Emergency Services began providing service July 1, 2021. This service is operated in conjunction with the Sheriff's Office and came out of a substantial need for additional EMS response. ICES is an AEMT/Provisional Paramedic non transport EMS agency designed to assist local transport and non-transport agencies with coverage.
ICES will accompany patients to the hospital when necessary to provide ALS level care and/or to augment volunteer EMS agencies.
ICES is dispatched alongside city-based EMS agencies during daytime working hours (generally 8am-5pm Monday-Friday), when volunteer EMS providers are stretched the thinnest. ICES may also be activated after hours during times of EMS system stress, special events, or critical incident callouts.
ICES assists with countywide training opportunities for public safety entities by organizing and/or providing ongoing training on communications, CPR, bloodborne pathogens, among other requests. ICES staff also assist city EMS directors with protocol development, quality assurance and compliance.
In addition, ICES provides Medical Examiner - Investigator (MEI) service to Ida County.
This service is primarily staffed by Ida County Sheriff's Office Sergeant Corey Trucke, and consists of part time/fill in staff as needed.
Staff Members:
Corey Trucke, Director, AEMT (51A)
A. Robert Welte, Paramedic (52P)
Joyce Schnabel, Paramedic (53P)
For more information contact:
Corey Trucke, EMS Director
ctrucke@idacountysheriff.us
(p)712-364-5777
(f)712-364-7411
EMS/FIRE ID REQUEST FORM CLICK HERE
EMS/FIRE ACTIVE ALERT REQUEST CLICK HERE