Jail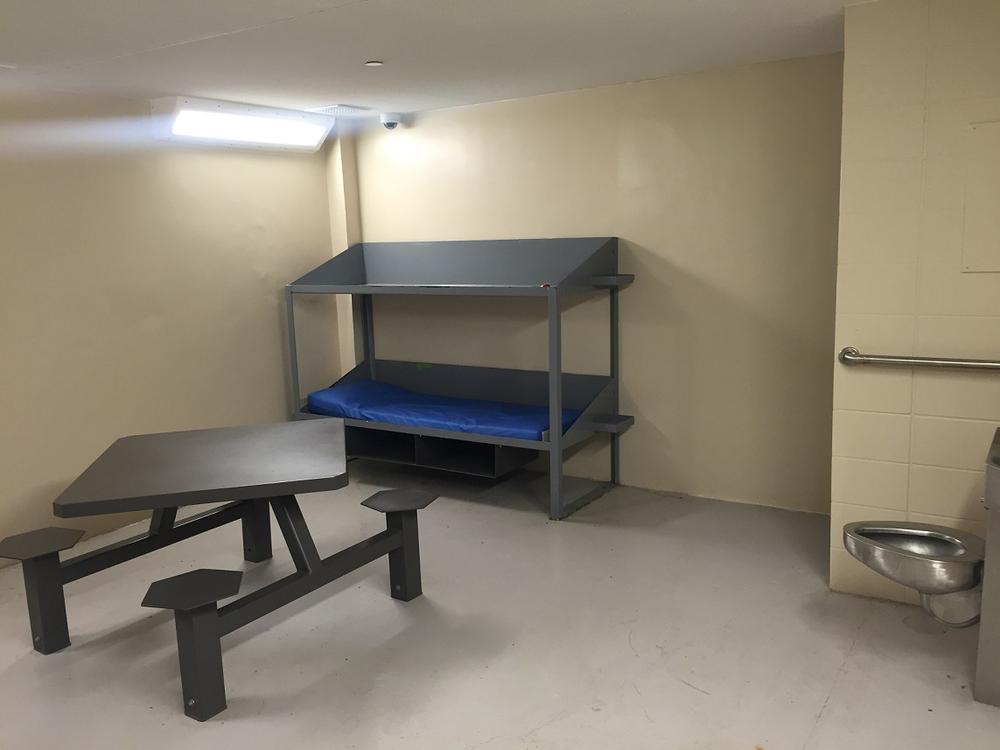 For a list of current inmates CLICK HERE.
Phone Cards
Friends and family may set up a collect calling account or purchase jail phone cards online at http://www.reliancetelephone.com or you may call Reliance Telephone at (800) 896-3201. Reliance Telephone also provides inmate texting and video call capabilities.
Commissary
The Sheriff's Office maintains a commissary fund where inmates or their families may deposit money to be used by the inmate to make purchases while incarcerated. Any money deposited into the fund is a privilege which may be withdrawn.
The commissary fund is subject to the rules of the Sheriff's Office including but not limited to the rules explained above.
By depositing money into the commissary fund, you agree that the money is subject to these rules, and agree that the money may be taken to pay charges as set forth in paragraph b below. If you do not agree to these terms, you should not deposit money into the commissary fund.
*Any money deposited into the inmate's commissary fund may be taken by the Sheriff's Office to pay any amounts owed by the inmate to the Sheriff's Office for any purpose, including but not limited to, vehicle towing fees, charges levied against prisoners for housing or work release, fines, surcharges or other charges of any nature imposed by the Sheriff's office. In addition, money may be taken for prescriptions and for medical or dental services and products or for other expenses as authorized by Iowa Administrative Code 201-50.15.
Commissary Orders will be collected on Tuesday of every week. Commissary will then be delivered on Friday that same week.
You can add money to an inmate's commissary account online at https://mycarepack.com/index.aspx

We do not accept cash for inmate commissary accounts at the jail.
Visitation
Clergy may visit Monday through Friday with a 24 hour notice.
Visitation will be allowed only on Thursday afternoons from 2:00p.m. to 4:00p.m. If a holiday falls on Thursday there will be no visitation. Visitation on any other day must be cleared by the Sheriff/Jail Staff.
*Anyone that has been incarcerated in the Ida County Jail within the previous six months will not be allowed to visit the jail.
Mail
All outgoing mail will be sent through the U.S. Postal Service. Friends and family can not stop at the jail to pick up a note or letter at any time of the day. Please note that incoming mail will be inspected by jail staff, unless it is privileged mail. Privileged mail is mail from an Attorney, Court Judge, Governor of Iowa, Clerk of Court, Citizen's Aide Office or Member of Federal /State Legislature. Incoming mail should be addressed as follows:
Inmate Name
Ida County Jail
401 Moorehead Street
Ida Grove, IA 51445
Personal Items
Personal magazines, or books may be allowed, however they become the property of the jail and will not be returned. This may reviewed by the Sheriff/ jail staff. NO pictures, books, or magazines that may appear offensive in nature will be allowed in the jail. Jail staff may not allow personal items at their own discretion.
Corey Trucke, Jail Administrator
ctrucke@idacountysheriff.us
Lena Hawthorne, Jail Lead
lhawthorne@idacountysheriff.us
Kyle Schiernbeck, Jailer
kschiernbeck@idacountysheriff.us
Katie Hayden, Jailer
khayden@idacountysheriff.us
Dana Goodman, Jailer/Dispatcher
dgoodman@idacountysheriff.us